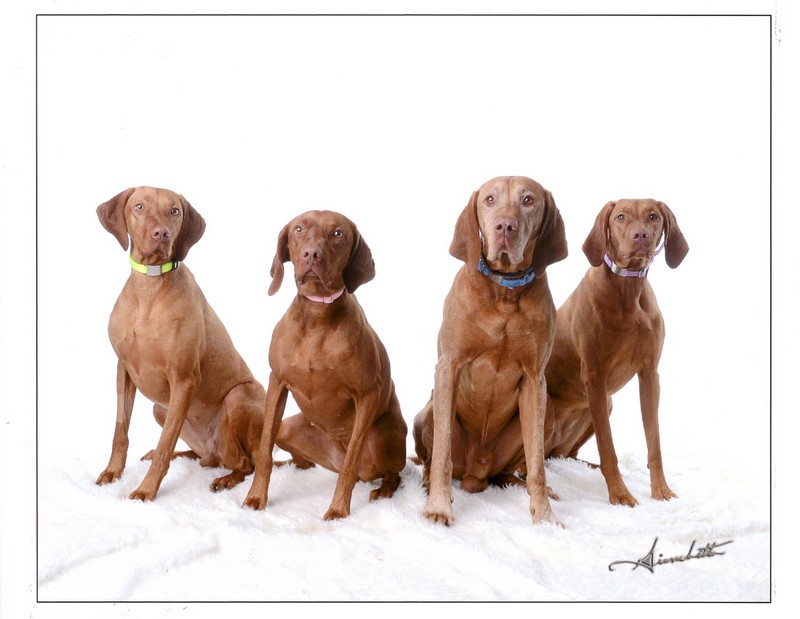 Bizzy, Szari, Budha and Lila
We are Lane and
Judy Campbell
and we live in the
Salt
Lake
Valley
along the
Wasatch
Front
Mountain
Range in the city of
Draper
,
Utah
. We are approximately 20 miles south of
Salt Lake City
. My husband and I are in love with the Vizsla breed and we currently share our home with 6 Vizslas. With the kids grown and babies of their own, our Vizslas have become our "4 legged kids". We started out our life together with a Golden Retriever, named Miss Coop. The best companion a person could ask for and my best friend. But after 15 wonderful years of filling our lives with her love and companionship, we had to say good-bye. We will meet again at the
Rainbow
Bridge
. As Miss Coop was aging, my husband decided he wanted another bird dog, so he gave me 3 breeds to choose from. The Weimaraner, Gordon Setter and the Vizsla. I had never heard of a Vizsla before, but his cousin had one and said they were very sweet dogs and great hunters. I started my research on the 3 breeds. The Weimaraner and Gordon Setter were very good looking breeds with intensity to hunt, and trainability. However the Vizsla just stole my heart with its intelligence, training and hunting ability and all around great family dog. I researched the breed for two years before deciding this was the breed for us. In May of 2000 we welcomed our first Vizsla into our family. Little did we realize that our lives would change forever!
We believe in keeping the versatility in breed, therefore we hunt with them as much as possible and compete in conformation, hunt tests, tracking and hopefully soon agility. My husband does the hunt/field training, while I do the conformation, tracking and learning the ropes of agility. The obedience training comes along with everything else. We are members of the Vizsla Club of America, The National Vizsla Association, The Great Salt Lake Dog Training Club, The German Shorthaired Pointer Club of Utah, The Wasatch Front Brittany Club, NAVHDA, Wasatch Mountain Chapter of NAVHDA and associate members of The Rocky Mountain Vizsla Club located in Colorado.
When we aren't playing or training with the dogs, we are working. My husband owns a hardwood flooring company and I am an accountant. We love being outdoors and yes, the 4 legged kids go everywhere we do. They love going 4 wheeling on the ATV's, camping, hiking and scouting out bird hunting spots.
I think there are 3 types of temperaments in Vizslas. 1) the Alpha, leader of the pack, I'm not afraid of anything 2) the soft, sensitive, follower, please don't leave me alone 3) the happy go lucky as long as we are together, I'll do anything dog, the happy medium.
Since creating this website and adding our 4th Vizsla to the pack, I have discovered a 4th personality of the Vizsla. The "I can do that, watch me, let me try, let me try" personality of our Szari. Time will tell which personality type Lila & Bizzy will choose. So far they are both just like their parents. Loving, stable and alot of FUN!
To learn more about each of the kids, please click their page.
Enjoy and Thank you for visiting!